Special exhibitions and other events at Posterstein Castle: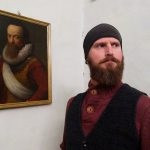 Family exhibition: From the everyday life of a lord of the castle
03.10.2020 - 28.02.2021
The popular family exhibition "Die Kinderburg" is to be continued: the focus is on the everyday life of a lord of the castle in times of peace. Multimedia and interactive, visitors large and small discover how a medieval castle was supplied with water and what tasks the lord of the castle had as a judge for the surrounding villages. The Poststein and Stein castle spirits also have their fingers in the game.
Christmas animals: animals in nativity scenes from all over the world
28.11.2020 - 10.01.2021
Ox, donkey, sheep and llama: this Christmas crib exhibition puts its focus on the countless animal figures that belong to the cribs. Every year in Advent, the Museum Burg Posterstein shows its traditional crib exhibition in the atmospheric rooms of the Posterstein Castle. The Christmas crib collection of the museum includes around 500 parts.