Special exhibitions and other events at Posterstein Castle:
Landscape after WISMUT: Photography by Karlheinz Rothenberger
23.02.2020 - 10.05.2020
The photographer Karlheinz Rothenberger from Landshut captured landscapes shaped by the DDR mining company WISMUT in impressive photographs. Thirty years after the end of uranium mining in Ronneburg, the photo exhibition shows the former opencast mining sites, recultivation through BUGA 2007 to the present day situation. 
Art exhibition: Peter Zaumseil and Ludwig Laser on their 125th birthday - painting, graphics, sculptures and ceramics
24.05.2020 - 16.08.2020
The renowned artist Peter Zaumseil from Elsterberg in the Vogtland region turns 65. The well-known ceramist Ludwig Laser from Berga celebrates his 60th. Together they give an extensive insight into their work at Posterstein Castle. The art exhibition shows painting, woodcuts and graphics, sculptures and ceramics.
Medieval spectacle with knight tournaments
30.05.2020 - 01.06.2020
A highlight that attracts thousands of visitors to Posterstein is the medieval spectacle with traders, jugglers and knight tournaments every year at Pentecost. Around the castle, artisans, knights and traveling people set up their tents for three days and entertain the curious with their performances.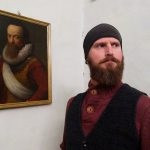 Family exhibition: From the everyday life of a lord of the castle
04.10.2020 - 28.02.2021
The popular family exhibition "Die Kinderburg" is to be continued: the focus is on the everyday life of a lord of the castle in times of peace. Multimedia and interactive, visitors large and small discover how a medieval castle was supplied with water and what tasks the lord of the castle had as a judge for the surrounding villages. The Poststein and Stein castle spirits also have their fingers in the game.
Christmas animals: animals in nativity scenes from all over the world
29.11.2020 - 10.01.2021
Ox, donkey, sheep and llama: this Christmas crib exhibition puts its focus on the countless animal figures that belong to the cribs. Every year in Advent, the Museum Burg Posterstein shows its traditional crib exhibition in the atmospheric rooms of the Posterstein Castle. The Christmas crib collection of the museum includes around 500 parts.