Special exhibitions at Posterstein Castle:
In the museum's gallery we show special exhibitions on regional arts and crafts and on local history. Here you find our current special exhibitions: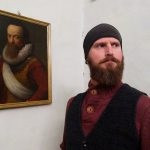 Family exhibition: From the everyday life of a lord of the castle
Datum: 04.10.2020 - 31.12.2021
This family exhibition puts its focus on the everyday life in a medieval castle. Visitors discover the castle and its history interactively.